Phoebe Weseley, Owner
Phoebe is a knowledgeable horsewoman and successful amateur rider. With her mount Just Ask Me she won the 2010 Washington International Horse Show Adult Hunter Finals. She has been champion or reserve in the Adult Hunters or High Adult Jumpers showing from Vermont to Florida, including The Vermont Summer Festival, HITS Saugerties, HITS Culpeper, HITS Ocala, Winter Equestrian Festival, Tampa Tournament of Champions, Gulf Coast Winter Classics, Biltmore Horse Show, Kentucky National Horse Show, among others. Having worked with a list of great trainers, Phoebe chooses to bring in Lisa Richter as her trainer at both River Run Farm locations.
Phoebe grew up in Manhattan and graduated from The Brearley School. She then attended Barnard College and graduated from Rice University in Houston, Texas. She worked as a writer and editor before running her own farm, which she's managed for over 20 years now. In the last few years, Phoebe has enjoyed bringing along several young horses and ponies to national titles. Please see her full equestrian resume here.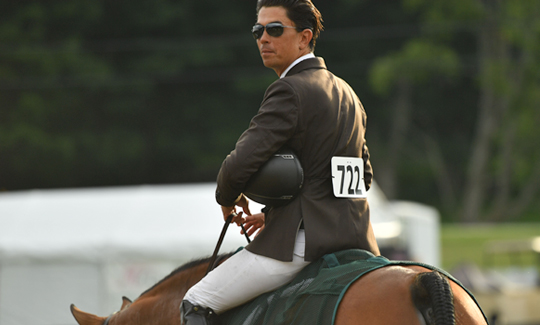 Colin Syquia, Horse Show Rider and Trainer
With his genuine love for horses, competing, and participating in shows and derbies, professional equestrian and horse dealer Colin Syquia has been able to amass triumph after triumph and come out loving what he does all the more. Having received recognition numerous times for his impeccable skills at horsemanship, Mr. Syquia has managed to remain humble and unaffected by all the accolades that have come his way. Although now based in Wellington, Florida, Mr. Syquia spent his growing up years in New York City and begun riding at Claremont Academy. Having experienced outjumping other riders in competitions or derbies, Mr. Syquia still deeply feels a unique thrill at competing. This is why although he has been around horses for a great part of his life, Colin still finds it impossible to literally hang up the saddle.